Gymnastics classes the whole community can enjoy…………..
At the Dorchester YMCA Gymnastics club we run our classes in line with the academic school year. Our purpose built facility enables us to offer classes to all ages, abilities or disabilities and is run with a concept of Christian based values to support, assist and encourage others whatever their background. All classes are prepared by our qualified coaches and consist of warming up the muscle groups and cardiovascular system whilst preparing the mind for the session ahead. A stretch will then follow to encourage flexibility. Strength and stamina work will also be included within the program. This essential preparation is to enable the safe learning of gymnastics skills within the session. Skills are taught dependent on the age and ability of the gymnast. Every member is expected to listen, learn and participate in a positive manner to comply with safety guidelines and in turn gain maximum benefit from each session.
The Dorchester YMCA Gymnastics Club offers a variety of disciplines. The Red triangle of the YMCA is the underlying thread representing the gymnastics for all discipline. This is a recreational style of gymnastics taught to enable the gymnast to learn the basics of a variety of disciplines. The classes are designed to be fun whilst learning new skills, they are able to engage with their friends and also make new ones.
Every Child Succeeds: Values and Vision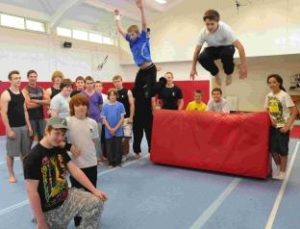 Freerunners
The gym club exists to enable every child to participate in gymnastics according to their ability and stage of development. The staff will help each child to develop as far as they can and in so doing to be happy, confident and safe when taking part in gym activities, whether leisure or competitively. Parents and carers have a part to play in ensuring the club are fully informed about the needs and concerns of the children and they comply with reasonable requests and expectations.
The statement above may be viewed as having 4 distinct strands expressed as.
• Every child taking part in gymnastics should be able to enjoy their time at the YMCA and achieve the success in line with their aspirations and capabilities.
• Every child and parent/carer can expect their child to take part safely and in the knowledge and confidence that all staff ensure their safety and welfare and will listen to concerns.
• Every child in seeking to develop their skills and talents as gymnasts should be prepared to support the club positively and learn to take part in a responsible and safe manner.
• Every child and parent/carer can expect honest and open feedback about their child and concerns they bring forward
Competition Gymnastics
This discipline is for the children that display good all round ability and a positive attitude towards gymnastics. Those invited to take part will be offered between 2-6 hours of training per week. Sessions will prepare them for local and county competitions. Display work and squad training is also included, this requires a good level of commitment from gymnasts and their parent/guardians.
Pre-School Gymnastics
We have vibrant and fun semi-structured sessions for our gymnasts either in Parent and Toddler sessions from when they are walking independently or in our 3/4 year old Junior Gym sessions where they will work towards their proficiency badges. Both fine and gross motor skills are used and activities applied to gain confidence in exploring all our apparatus.
Rhythmic Gymnastics
This form of gymnastics develops routines that involve ballet and body skills to include leaps, spins and balances which are performed while using hand apparatus such as balls, ropes, hoops, ribbons or clubs.
Disability Gymnastics
Specialist and integrated provision is provided for those with any disability and tailored to individual needs covering many aspects of all our disciplines. Many are referred from healthcare providers knowing how much participation benefits their quality of life. Hugely popular and ever evolving, inspiring us all.
Adult Gymnastics
Why not try something different and challenge yourself to learn some gymnastics skills